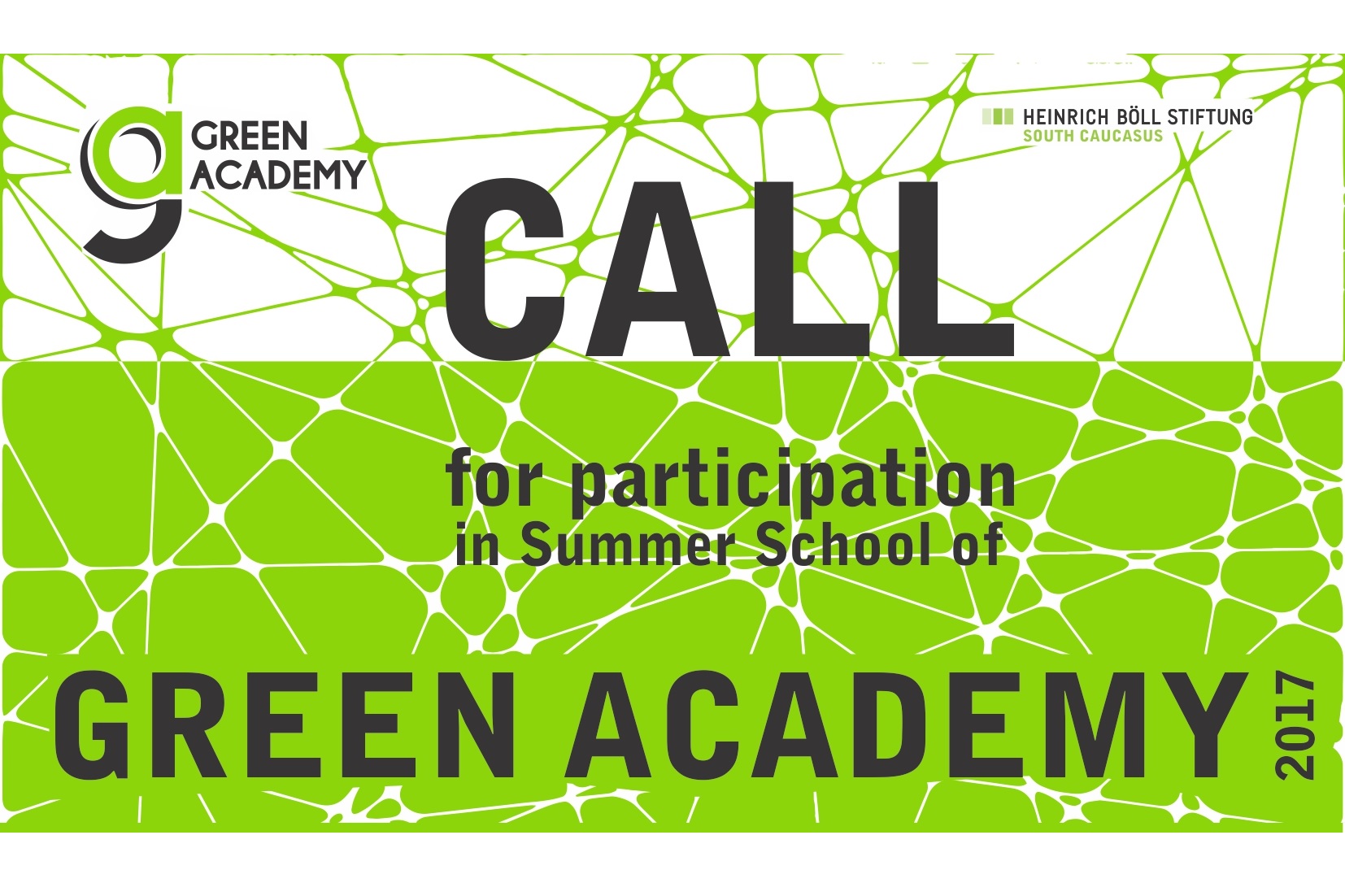 The South Caucasus Regional Office of the Heinrich Boell Foundation announces a call for participation in the Green Academy 2017!
The Summer School will take place on July 22-28, 2017, in Bazaleti.
Sustainable economic and social development, justice and welfare require a series of political, economic, social and even cultural transformations on the global and local levels. The current situation and trends in the world, including (but not limited to) a right-wing populist US president, the empowerment of far-right forces in Europe, the crisis in Turkey and geo-political threats coming from Russia, suffice to convince us that rethinking the current processes to advance bold political and economic action are urgently needed. The South Caucasus countries, with their internal conflicts and diverging development strategies are largely dependent on the bigger political players, the neoliberal capitalist system and globalization and lack vision or ideas how a democratic future can be achieved and guaranteed. In Georgia, the younger generation has already begun questioning current politics and political systems and putting the economic, social and ecological crises in the spotlight. However, there is no single opinion on how economic development and social welfare can be achieved in the country, what the opportunities for micro and macro-scale alternatives are, how to deal with the economic, social, political and environmental challenges that prevalent in the Georgia nowadays and how to unite the struggles and actors with the potential to accelerate positive political and societal changes.  
The Third Edition of the Green Academy Summer School will address these questions and through its four key modules (Politics, Economy, Society, Activism), lectures, plenary debates, film screenings, group work and workshops will explore opportunities for environmentally and socially just economic development. This year's program is guaranteed to leave ample space for networking and experience-sharing.
We will be hosting the following keynote and distinguished speakers:
Selection Criteria:
Citizens of Georgia, born between 1981 and 1996, hold a university degree, and permanently reside in the region, are eligible to apply. Good command of English is desired. Young activists, journalists, scholars, and politicians from Georgia interested in Green politics and actively involved in civic activism are encouraged to apply for this call.
Applicants should submit Application Form to info@ge.boell.org (Please note Green Academy 2017 in the subject line of your email.)
General guidelines:
Applicants do not need to be currently affiliated with any institution.
The deadline for applications is 20 June, 2017, 8:00 p.m.
Interviews with the selected participants will take place on June 23-26, 2017