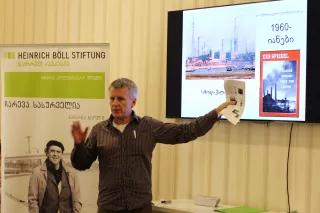 From October 29 to November 1, 2015, the South Caucasus Regional Office of the Heinrich Boell Foundation hosted training in Batumi for the 12 journalists interested in environmental issues. The main goal of the training was to increase the knowledge and capacity of Georgian journalists to report effectively on energy, climate change and environmental protection and consequently raise awareness of those issues in the wider public.
Heinrich Boell Foundation gave opportunity to the participants to engage in discussions with leading energy and environmental experts as well as with seasoned environmental journalist covering key environmental issues. The training was led by Mr. Dirk Asendorpf, principle trainer from Deutsche Welle Academy, who covers environmental issues for more than 20 years. He together with the journalists worked on story ideas and reports and gave valuable practical suggestion to his Georgian colleagues.
The participants had opportunity to take investigative field trips at projects sites, access real material for their stories and hear the positions of different groups (public, government, project developers) on each case.  Undertaking the field visits to Shuakhevi hydropower plant (HPP) construction site and the village impacted by the HPP, seeing Batumi landfill and ecological treats concerning to it, realizing the contradictory issues related to Black Sea Coast Protection, made clear the chaos associated with legislative deficiencies, the weakness of various institutions and improper decision-making process.
Finally, the event confirmed that in Georgia there are limited number of journalists who intensively and in a qualified manner work on nature protection, economic development and social issues. Therefore, in order to better inform policy debates in Georgia improvement of journalist`s capacity and knowledge are highly important. South Caucasus Regional Office of the Heinrich Boell Foundation will do its best to contribute to this cause further in future.
Please see below the media products (in Georgian language) prepared in the frames of the project: