The article discusses the peculiarities of capitalist development in Kutaisi, Georgia's fourth largest city. It offers the author's observations on the city's uneven development, labour migration and tourism. The article was written as part of doctoral research in cultural and social anthropology which aims to explore, by studying the Kutaisi International Airport, the significance of infrastructural development, peripheral infrastructures and limits to its development.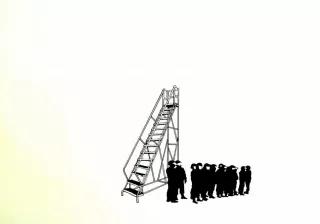 It's spring - May 31, 2023. I am in Kutaisi. That morning I decided to walk around the city, mostly in its centre, and observe the changes that had taken place since I had begun anthropological research for my PhD in the summer of 2021. Like in Georgia's other cities, Kutaisi's centre and its outer districts diverge radically. Differences are obvious if you leave downtown and visit Avangardi, Avtokarkhana and Nikea. Georgia's political system helps maintain this disparity - the lack of decentralisation, both between and within cities, concentrates scarce resources downtown, while the outskirts are often left behind. This is true for both Tbilisi and Batumi. The hegemony of the city centre in Georgia has its roots in the Soviet Union and has persisted unabated since independence. Stephen Jones discusses this phenomenon in his book on independent Georgia (Jones, 2012, p.10) and Elza Gurgenidze provides an indirect treatment of the subject in her brilliant work of historical fiction Zaodi (გურგენიძე, 2022). Persistently unequal growth has meant that economic development, even if limited, is mostly noticeable in the brightly lit city centres and their parks. 
Kutaisi does not seem to have changed all that much between the start of my research in 2021 and the spring walk in 2023. The city seems to follow the patterns of uneven capitalist development well underway in Tbilisi and Batumi.[1] Remittances and tourism are the chief sources of income here. The former is ubiquitously visible - both in official statistics that show the emigration, post-independence, of a significant part of the local population[2] and on the streets. A currency exchange outlet in the centre of Kutaisi also offers an opportunity to cash international money orders. This and similar enterprises, like Western Union and MoneyGram counters, used mostly by illegal migrants transferring salaries earned in wealthier capitalist nations to their families in less-developed ones, are crowded points of congregation. 
Tourism provides the second major source of income. The Kutaisi Airport - a thirty-minute drive away from Kutaisi's centre - is an integral part of the region's tourist infrastructure and provides an important source of income for many in the city. My blog explores the participation of local youth in the production of mobility, focusing on those employed as cabin crew - one of the most attractive employment opportunities in Kutaisi. 
My PhD project studies airports. More specifically, it is an ethnographic exploration of the Kutaisi Airport, through which I try to discuss issues related to migration, globalisation and development in Georgia. The Kutaisi Airport is an example of a "networked infrastructure", theorised by Steve Graham in his Splintering Urbanism: Networked Infrastructures, Technological Mobility and the Urban Condition. The term "networked infrastructures" refers to the parts of a city that are inter-connected and that confer specific meanings onto the urban environment.[3] Airports, shopping malls, power lines, internet cables, cameras and scanners all belong to this category. Such infrastructure is indispensable for the production of global capital, local labour force and the capitalist system as a whole (Graham, 2001). We can consider people engaged in the production of such loci as integral parts of networked infrastructures. They create specific cultural, social and economic relations which then shape the fabric of the contemporary city. This is why airport workers, and especially the cabin crew, are important actors for my research. Through the airport, they connect scattered points of the world and become, in the process, part of global society. Despite the fact that they seem to be the heroes of the new economic system, they are also victims of the capitalist system, which devalues their work. Zygmunt Bauman, a Polish sociologist, described this phenomenon in his book on post-modernity (Bauman, 1996), in which he argued that the contemporary economic system prioritises profits and growth over an equitable division of transnational labour. Therefore, the contemporary, post-modern world that Bauman describes produces two contrasting figures - that of "the tourist" and "the vagabond"(Bauman, 1996). 
Wizz Air and the "Revolution" of Low-cost Airlines
The 1990s marked the beginning of the revolution of low-cost airlines (Burrell 2011). The phenomenon is often seen as related to tourism or to the emergence of the "migration state" (Lin et al. 2017).[4] Late capitalism has triggered a radical transformation of the aviation industry and of commercial airlines. Globalisation, the acceleration of labour migration and the development of the tourism industry significantly increased the demand for mobility. In the past, most airlines catered to the middle and the upper classes. Today, a new class of airlines, well diversified in terms of affordability, exists to satisfy the rising demand generated by new classes of consumers. Low-cost airlines like RyanAir, EasyJet and Wizz Air are part of this trend. Wizz Air, a Hungarian low-cost airline, was the first, in 2012, to fly from and to the Kutaisi Airport and remains among its most important operators. Wizz Air is headquartered in Budapest, but it maintains a fleet in Georgia and hires, among others, Georgian citizens as cabin crew. 
The low-cost airlines are notorious for the low-cost labour standards they follow. When compared to other airlines, they offer lower wages, irregular and exhausting work schedules and provide limited opportunities for career advancement. One of the respondents I interviewed as part of my research is employed at Wizz Air. I met Nino in the summer of 2021, at the Kutaisi Airport. She was then employed at the Covid testing centre, where she tested departing passengers as part of a mandatory procedure. Her career revolved around the airport and she was very happy with the position. She had been studying at the Georgian Aviation University and was a student there when we met. When I recorded my first interview with Nino, she was in Kutaisi for a job interview at a hotel where Wizz Air's managers were selecting new hires. As she explained, good command of English and logical reasoning were the most important criteria. After multiple rounds of testing, a training course abroad and various other bureaucratic steps, Nino eventually became a flight attendant at Wizz Air.
I met Nino and her friend, Levan, at a new cafe on Tsereteli Avenue in Kutaisi, on May 31, 2023. The avenue follows the bank of the Rioni River. Its restaurants and hotels overlook Rioni's waters. I decided not to force matters and began with an informal interview. I wanted to understand Nino and Levan's experience of being a flight attendant. I wanted to know what the job offered in terms of personal and professional development. 
Levan was tired. He had just arrived from Tallinn. He had been a flight attendant at Wizz Air for a long time. He shared that the job was attractive in the context of Kutaisi's job market, but not very attractive in terms of work-life balance and a regular work schedule. According to Levan, employees in Georgia were receiving the lowest salaries compared to other countries where Wizz Air operates. Wizz Air currently employs 80 people, and its Georgian staff is in demand and growing. Nevertheless, Levan shared that the company is not invested in its employees and provides no opportunities for professional advancement. Among Kutaisi's youth, Nino and Levan have the "privilege" of being exploited. In the context of mass unemployment in Georgia's many regions, having a job is seen as a privilege. Despite being paid low salaries, Nino and Levan think they are relatively better off than others around them. Levan highlighted the demanding schedule, the lack of free time and the unavailability of career opportunities as the main problems. For him, being a flight attendant was associated with instability and precarious labour conditions. "You will grow old, will be let go and everything will end," he said.[5] Karl Polanyi, in his Great Transformation wrote about this kind of instability and described how the unregulated market undermines the long-term stability of modern society. According to Polanyi, the free market tries to commodify land, labour and money, thereby threatening social stability (Polanyi, 2001). 
For Levan and Nino, working in the aviation industry is stifling, both emotionally and physically. In the interview, Nino shared physical and emotional problems that come with being a flight attendant - "days get mixed up. Often there is no time for socializing. You are constantly stressed. They might make you pass a test at any time and sleepless nights turn into nightmares."[6] Levan recalled the death of a passenger on his flight and the psychological impact it had on him. When a passenger is unwell, it is the duty of the flight attendant to provide medical care. They do not have the right to determine death, even if no pulse is present. This means that they must keep providing life-saving care until landing. Levan was suffering emotionally - the death of a passenger had had a strong negative impact on him - "I saw nightmares for a long time and had serious psychological problems. But eventually I was able to overcome them."[7]
The Universal Nature of Capitalism
Beginning in the 1980s, the rise of neoliberalism signalled the trend of diminishing state involvement in enforcing labour rights, as well as a general receding of state participation in all forms of economic management. The dynamic also affected the aviation industry, where the confluence of neoliberalisation, the acceleration of mobility and the emaciation of labour standards ushered in major changes (Burrell, 2011; Chalfin, 2008). The experience of my respondents, Nino and Levan, is part of this global neoliberal transformation. Precarious labour, lack of leisure and the primacy of profits are the defining characteristics of the new order, where citizens are forced to be "flexible" and accommodate the whims of the labour market. For neoliberal capitalism, emotional labour, overwork and safety risks are negligible factors when compared to the driving importance of profits and efficiency. Contemporary academic literature describes work in late capitalism with new theoretical frameworks. Aviation is part of these discussions and if the reader chooses to observe practices of the aviation industry on their flight, they will easily notice the dure labour conditions of airport and airline staff. 
The Promise of Infrastructure and the Brave New World 
Returning home after the interview, I made notes on the main observations to make sure I would not forget. As I wrote, I thought about the labour of flight attendants. From terminal to terminal, in various airports and at home, they try to make sense of the world in which they live. Compared to the unemployed Georgians around them who often have to seek work abroad, they are in a "privileged" position. Levan hoped to move to a more reputable airline, but his plans are complicated by the fact that low-cost airlines rarely invest in their staff and usually withhold from them the knowledge they need to advance in the field. Both Levan and Nino think that Georgian aviation has an important role to play. They both think that it has potential, but the relevant stakeholders seem to take little interest in its development. Deregulation has not had a positive impact; on the contrary - globally and regionally, Georgian airlines and airports are minor players.
Ulrich Beck, a German sociologist, wrote about the promise of infrastructure and the brave new world in his Brave New World of Work, a book that explores the transformation of work since the 1970s (Beck, 200). Beck's title refers to Aldous Huxley's dystopian novel Brave New World. In the novel, Huxley imagines a radically stratified society, in which it is impossible to change one's social class. Beck argued that neoliberalisation is not a step towards a better future, where the quality of life of the working class gradually improves. It is instead a parallel modernity, in which the privileged classes get more than workers. This "new world" demands increased labour productivity and growth, but also requires a decrease in public benefits and an overall disengagement of the state from labour politics. The promise that the Kutaisi Airport carried in its development, reflects the transformation of global capitalism. But the neoliberal promise that infrastructural development would have an immediate positive impact on the quality of life, was not kept. 
The Role of Infrastructures in Politics and the Economy
I once heard at a lecture that capitalism in non-Western contexts was always neoliberal.[8] The Global North was the exception, where social struggle, colonial domination and the regulatory state had made capitalism relatively "benign." This is a thought-provoking and controversial opinion, as it questions the possibility of the coexistence of capitalism and global justice. I plan to devote a chapter of my dissertation to this debate. Why do we believe in infrastructural development and what possibilities do we ascribe to it? The Kutaisi Airport, the Parliament of Georgia and other infrastructural projects are symbols of modernity, which was itself, to many people, an infrastructural promise. The hope that infrastructures will satisfy people's material needs is alive, but it is important to understand infrastructures and its possibilities in the context of neoliberal paradigm, in which the economic and the political system tries to tailor the developmental trajectory to the interests of a single social class. Infrastructural development is part of this dynamic. Labour and development are inextricably intertwined, and their purpose should be to improve people's lives. But the past three decades in Georgia is an example of the opposite. This is especially clear as one enters the Kutaisi Airport. The airport was supposed to improve lives in Kutaisi and all Imereti, but it has instead turned into a migratory gateway, through which people leave Georgia in search of income. At the same time, for the local staff, the physical and emotional labour at the airport is neither properly remunerated nor safe for their mental health. 
All of this leads to the question of whether the Georgian economic and political system is capable of pursuing a universal and inclusive model of development mandated by the Georgian Constitution and its preamble on "the social state." Parts of my doctoral research explore issues related to such "social states."  Why are cities locked in a pattern of uneven development and how did the appearance of modern capitalist infrastructure, like the Kutaisi Airport, affect them? How are we to understand the promise of infrastructural development in post-Soviet Georgia? How does the airport generate disappointment in light of widespread labour migration and the depopulation of Kutaisi? These are the main questions that my dissertation explores. My goal is to understand the Kutaisi Airport, its peripherality and the limits to its development. This blog is part of this endeavour - an attempt to discuss neoliberalism, development, infrastructure and related hopes, as well as the accompanying dissatisfaction. Is it even possible to see developmental models that do not improve people's lives in a positive light? 
The content of the article is the sole responsibility of the author and can in no way be taken to reflect the views of the Heinrich Boell Foundation Tbilisi Office - South Caucasus Region
References
Bauman, Zygmunt. 1996. Tourists and Vagabonds: Heroes and Victims of Postmodernity. Institut für Höhere Studien.
Beck, Ulrich. 2000. The Brave New World of Work. Wiley.
Burrell, Kathy. 2011. "Going Steerage on Ryanair: Cultures of Migrant Air Travel between Poland and the UK." Journal of Transport Geography, Geographies of Passenger, 19 (5): 1023–30. https://doi.org/10.1016/j.jtrangeo.2010.09.004.
Chalfin, Brenda. 2008. "Sovereigns and Citizens in Close Encounter: Airport Anthropology and Customs Regimes in Neoliberal Ghana." American Ethnologist 35 (4): 519–38.
Graham, Steve. 2001. "Splintering Urbanism: Networked Infrastructures, Technological Mobilit." 2001. https://www.routledge.com/Splintering-Urbanism-Networked-Infrastructure….
Hollifield, James F. 2004. "The Emerging Migration State." The International Migration Review 38 (3): 885–912.
Jones, Stephen. 2012. "Georgia: A Political History Since Independence." 2012. https://books.google.ge/books/about/Georgia.html?id=s0vFPAAACAAJ&redir_….
Lin, Weiqiang, Johan Lindquist, Biao Xiang, and Brenda S. A. Yeoh. 2017. "Migration Infrastructures and the Production of Migrant Mobilities." Mobilities 12 (2): 167–74. https://doi.org/10.1080/17450101.2017.1292770.
Polanyi, Karl. 2001. The Great Transformation: The Political and Economic Origins of Our Time. Beacon Press.
გურგენიძე ელზა. 2022. ზაოდი. ინტელექტი.
"საქართველოს კონსტიტუცია | სსიპ "საქართველოს საკანონმდებლო მაცნე"." n.d. Accessed September 9, 2023. https://matsne.gov.ge/ka/document/view/30346?publication=36.
"ქუთაისი საქართველოში მოსახლეობის რაოდენობით უკვე მეოთხე ქალაქია – InfoImereti.Ge." n.d. Accessed September 14, 2023.
https://infoimereti.ge//ქუთაისი-საქართველოში-მოს/
Interview
Nino and Levan, interview by Dato Laghidze. 2023. Interview with the cabin crew (May 30).
---