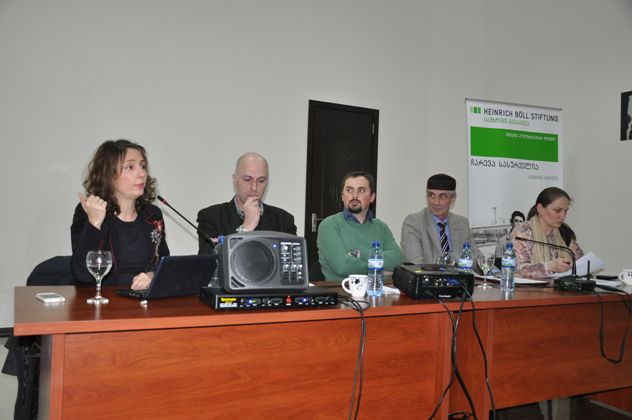 Batumi, 22 February, 2013
"According to the present constitution, the Autonomous Republic of Adjara has no rights at all, and the only thing we manage to do is to control the budget." This is how Alexandre Chitishvili, the chairperson of the Budget and Finance Committee of the Supreme Council of Adjara, started his speech at the debates entitled "From or to the center: regionalism and local self-governance", organized by the Heinrich Boell Foundation. According to the deputy to the Supreme Council, the previous initiatives aiming to increase the rights of the autonomous republic or promote self-governance have been regarded as separatist efforts. However, he said, the legislative body is ready to implement such initiatives today. Besides, according to the guest experts attending the debates, not only Adjara's institutions but also its population is prepared to govern the region.
The guest experts and discussion participants explicitly indicated that the region must solve its own problems and set its priorities independently of the central government. One of the NGO members noted that it would be better not to have any status rather than being such a feeble autonomy: "As this is the case, I am ready to sign the petition in support of abolishing the autonomy". Many participants expressed a similar view.
Discussion participants also noted, on the other hand, that the autonomous republic's government has great power. Geno Dzneladze, the head of the Institute of Democracy, expanded on this idea, noting that "Today's arrangement of the republic's government structure has become increasingly distant from the people, and the processes that have been developing lately (namely, public pressure on government officials to leave their posts), is exactly the response to this. The population had not been involved in this process of making a choice, and the Ajaran government had always been viewed as the extension of the central government, which was wrong".
The expert David Losaberidze noted at the discussion that the issue of the authority of local structures and that of financing will be agreed on with the public, together with working groups: "The main essence of self-government is to ensure that the population is involved in the decision-making process and in setting priorities for all the activities to be implemented. They should be allowed to choose and decide, certainly within the limits of competence prescribed by the law." Mr. Losaberidze welcomes the fact that the bodies responsible for reforms, among them regional management bodies and the Ministry of Infrastructure, are already cooperating with organizations that have been working on the concept of self-governance for years.
According to one of the speakers, Nina Khatiskatsi, "We cannot say that we are a democratic country and are oriented toward European values, unless there is a strong self-governance system. A country cannot have a strong economy without influential local self-governance."
Along with NGOs and media representatives, Adjara Supreme Council deputies and other government members attended the discussion.