Short Summary
Georgia's Youth and History: Experience, Attitudes and Values, was a study conducted in 2021 by WeResearch with the support of the Heinrich Boell Foundation Tbilisi Office – South Caucasus region. It aimed to examine young people's attitudes towards Georgian history and how the subject is taught. The research focused on what they know about history, how they understand it, their interests in the subject, the primary sources of information they use, and how they assess the experience of learning history.
During the study, we relied on quantitative and qualitative data collection methods. A countrywide survey was conducted that included 4,366 public school students from grades 9 through 12. As part of the qualitative research, 12 focus groups were established that included teachers, pupils, and students. Eight face-to-face interviews with experts in the field were also conducted. The main findings of the study are presented below.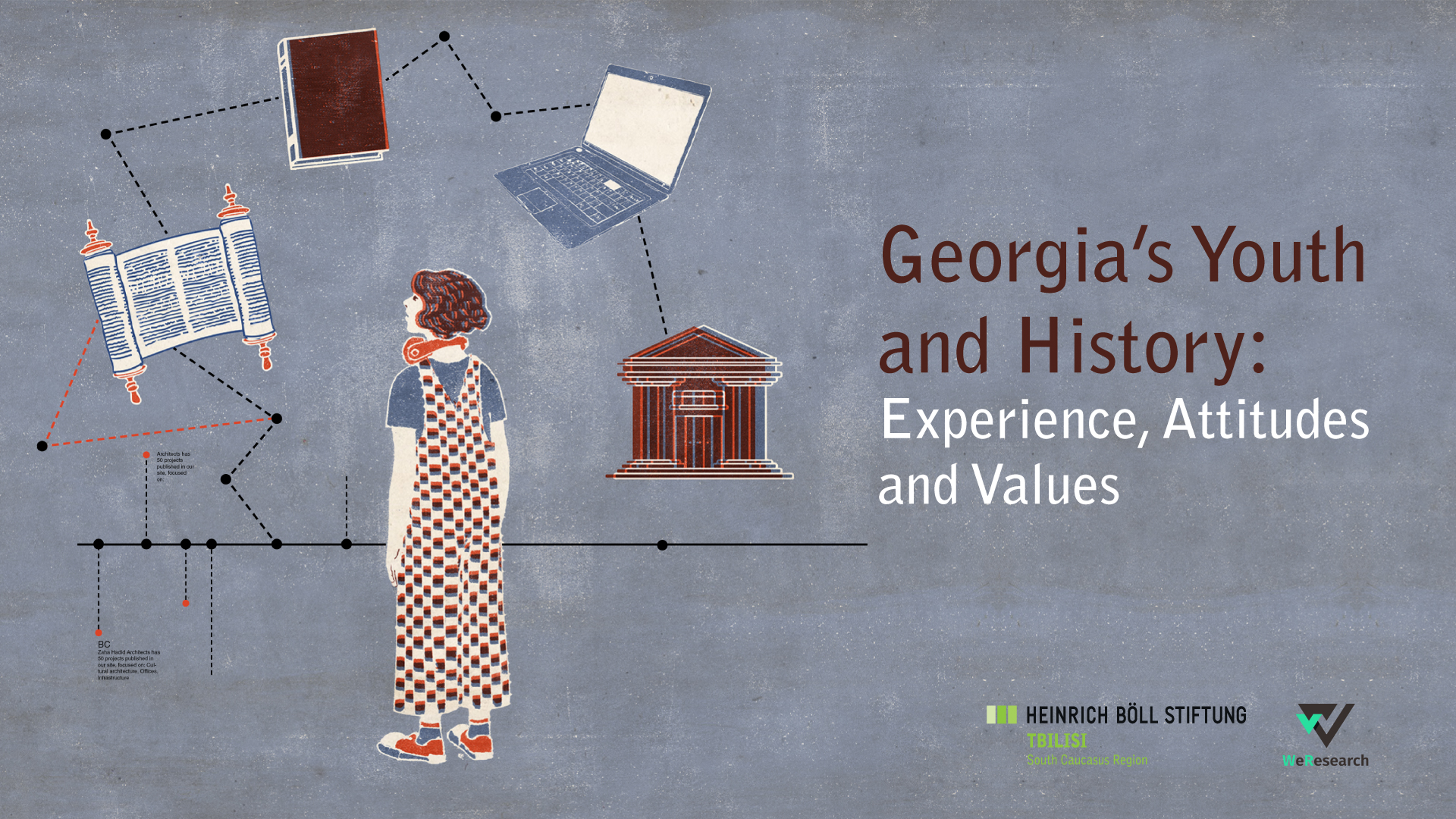 For most students, history is not just a study of past events but rather something that can be used to help understand current events and ongoing processes of the present. Students believe that history can be utilized to interpret the present and determine the future. In general, the more often a student receives information about the history and the more they trust the sources, the more likely they are to observe that history has an important function. It is also interesting to note that an interpretive understanding of history coexists with the idea of ​​establishing historical truth. In other words, the notion that history can have many different interpretations coexists with the concept that there is a single right history. By examining diverse sources and interpretations by different authors, the truth may be established.
The self-assessment of history knowledge and study skills is high among students. It should be noted that a standardized appraisal of knowledge was not used in the study. Knowledge assessment is based on the ability of young people to conduct self-evaluation. The skills self-assessment is associated with various socioeconomic variables. In particular, the abundance of books at home, the desire to continue university studies, and parents having higher education, all increase the likelihood of higher self-assessment in history study skills.
Students show high interest in the history of Georgia. They are especially interested in the 400 -1350 AD period and local and regional history. Students who wish to continue their studies at university, students who have many books at home, and students who frequently search for information about history, and trust their sources, are more likely to be interested in the history of Georgia. At the same time, girls are more curious than boys about Georgian history's various topics and epochs.
In terms of naming praiseworthy ancestors and heroes, kings and public figures that have contributed to the unification and protection of the country are cited most often. Women and members of ethnic minorities are least likely to be reported as heroes.
Students turn to various formal and informal sources to access information about history. The internet, along with school-related resources such as textbooks and teachers are the most common means to obtain information. Students regularly supplement information obtained from formal sources (such as textbooks) with information obtained from informal sources (e.g., the internet and family members).
In general, students trust their historical sources. Interestingly, the sources that students trust the most (e.g. museums and historical sites) are the least frequently accessed, and vice versa, the sources they employ most often (e.g. the Internet and media) are viewed as the least credible.
The teaching of history is in transition. While history lessons are primarily standard, teachers combine old and new methods and apply them simultaneously. In teaching history, the study of history as the foundation of identity is the main focus. At the same time, the goals include instilling a patriotic spirit and establishing essential values for society ​​as well as promoting critical thinking.
While students have conflicting views about the nation-state, it is relatively common to think that the nation is more of a natural, historically dictated union and less the result of people's actions. Students' views of the EU are also contradictory, as the EU is viewed as both an opportunity and a threat.
When assessing Georgian culture, students agree with more conservative or traditional views. Students critically evaluate the contribution of non-Georgian nationals to the development of Georgian culture. In this regard, some believe that Georgia should exercise influence over other countries in the Caucasus.
Several notable recommendations have been made based on the research findings:
R

efine history teaching methods

Improv

e

history

teaching

content

Increas

e

the diversity of historical sources

Promot

e

history research

Tak

e

into account the inequality of

receiving

education and

truncate

it
Recommendations
The recommendations below reflect some of the significant challenges identified in the study.
Note: It is advisable to target some of the key actors as recipients of these recommendations
The s

tate

: as a history policy planner and implementer

Universities

: a

s spaces

for the development of research

and historical

content, research, and teaching methods

, and as

i

mportant institution

s

for teacher training

School

s

:

as

place

s

for teaching history as well as teaching methods and resources

Media

: as an opportunity to obtain information about

Georgian

history and

to ensure the

professional development of teachers

Publisher

s

: as important source

s

for the production and dissemination of historical content

Public associations (clubs, circles, unions, associations)

: as spaces for people and institutions,

and

teachers' professional associations interested in history

Non-governmental and international organizations

: as knowledge generators and organizations carrying out supervisory functions

Museums and monument protection organizations

: as places for the development, preservation, and dissemination of historical knowledge
The implementation of these recommendations may, in some cases, be linked to the cooperation exercised among the stakeholders mentioned above.
Recommendation 1: Improve history teaching methods
Research has shown that history is taught in schools mainly using traditional, content-oriented, and teacher-centered teaching methods. On the other hand, research has also shown that relatively more active, learner-focused teaching, oriented on student skills, knowledge, and values, may be related to the development of critical and multidisciplinary thinking. History teachers should have more knowledge and motivation to introduce more active teaching approaches.
In this regard, it would be important for the state to make efforts to encourage teachers, develop pedagogical guidelines and training programs. It would also be prudent to improve pre-service university training programs, which may contribute to a positive change in the state of play. It would also be pertinent to empower professional and subject-based teacher associations (e.g., the History Teachers' Association) so that teachers have access to horizontal, peer-to-peer support.
Recommendation 2: Improv

e

history

teaching content
It is important to refine the topics studied within history. More specifically:
The

acceptability of the existence of alternative interpretations of history

should be emphasized

. It is desirable to move from the concept of one "grand

narrative"

to understanding history as having multiple and parallel interpretations.

Instead of concentrating on the history of

laudable

and tragic events,

learning

history should become a means of understanding social structures and structural change.

Focus more on the study of topics that are

marginalized today and

those that

would help

students better

understand the connection between history and modernity

as well as

the future

, for example,

economic history, women's history, the

essence

of state

hood

,

and

ethnic and cultural diversity.
Developing up-to-date, multidisciplinary materials that promote critical historical analysis can improve history teaching. Refining the language and content of the textbooks and aligning them with the age and interests of the students is also recommended, along with the development of time-bound resources containing specific activities for teachers.
In this regard, merely focusing on the textbooks would not be enough. However, to improve the textbooks per se, it may also be important to develop recommendations for the authors that pertain to research-based teaching methods and content delivery. These recommendations may include suggestions on how the history teaching curriculum can emphasize the historical understanding of social structures and social, economic, and cultural developments.
Recommendation 3: Diversify historical sources
As research has shown, students often rely on informal sources such as the Internet, social networks, and traditional media to access information about history. Students also turn to their own families for information on local and recent history. On the one hand, it would be desirable to focus more on online resources and media to disseminate multimedia-rich, unbiased content about history. On the other hand, introducing oral storytelling projects in schools, where teaching students to collect and critically comprehend the historical narrative might also be pertinent..
Both goals relate to the development of media literacy competencies. The advancement of media literacy competencies at schools would further enable young people to be able to critically analyze the messages they receive in connection with history and become the creators of history-related messages themselves.
Increasing access to credible and competent sources like museums would go a long way in expanding the diversity of historic resources. It would be advisable to increase the connection of school children with museums, plan more visits, and encourage museums to develop educational programs for schools – both face-to-face and online. Creating accessible databases for students under the auspices of museums and libraries (e.g., genealogical databases, photo collections, administrative demographic data, correspondence databases, etc.) is recommended. As a result, these databases will increase access to the tools needed for historical research.
Recommendation 4:

Take

into account the in

equalities while receiving

education
Research has shown that various socioeconomic groups and those with different ethnic or cultural backgrounds may have varying degrees of access to the tools needed to study history – including technical and intellectual resources. More emphasis must be placed on bolstering the teaching of history in small, rural schools, and among ethnic minorities. Issues related to gender differences (women are underrepresented in textbooks) also need to be given more attention. There is also a lack of gender history research, and such research is mostly "locked-in" in academia, etc.
Recommendation 5:

Promote

history research
Scientific products represent one of the foundations of understanding history. It is crucial to promote research to help students understand topics that have hitherto been less relevant to historiography. These are the history of mentalities, social history, nationalism, gender, Soviet history, etc. Of particular importance for promoting these studies is the increase in access to sources and the facilitation of access to archived data for those interested in historical research.
Scientific youth conferences should be promoted to foster history research. Such conferences would help disseminate and popularize modern scientific research standards, including among schoolchildren and teachers. Establishing research scholarships would also help to support the research.
In addition, our study has identified several issues that require further in-depth research. Therefore, it is important to continue studying young people's attitudes towards history with a more specific focus.